Matchstat.com expert prediction for the Carreno-Busta Khachanov H2H. Here is our in-depth stats analysis and accurate prediction of the Carreno-Busta Khachanov head to head.
Full Stats Used To Calculate Our Carreno-Busta Vs Khachanov Prediction Are Further Down This Page. Here Is A Brief Snapshot
The best career year for Carreno-Busta was 2013 when he won 84% of matches played on all surfaces (97/18). Khachanov was in the best form in 2015 when he had victories of 70% of his matches (57/24). In their last event played, Khachanov made the Quarterfinals at Moselle Open - Metz, whereas Carreno-Busta played Malaga Challenger and made the Second round.
Currently displayed stats includes matches of all levels. To exclude lower level events (as per ATP / WTA official stats) toggle button in page footer.
| stats | Pablo Carreno-Busta | Karen Khachanov |
| --- | --- | --- |
| All H2H Matches | 3 | 6 |
| Sets Won | 9 | 14 |
| Games Won | 96 | 114 |
| Aces (Total) | 32 | 56 |
| DFs (Total) | 10 | 20 |
| Avg Match Time | 1:38:54 | 1:38:54 |
| 1st Serve % | 64% (402/627) | 58% (355/608) |
| 1st Serve Win% | 70% (282/402) | 77% (272/355) |
| 2nd Serve Win% | 48% (108/225) | 54% (136/251) |
| BPs Won% (Total) | 45% (19/42) | 49% (26/53) |
| Return Points W% | 33% (200/608) | 38% (237/627) |
| Best of 3 Sets W% | 38% (3/8) | 63% (5/8) |
| Best of 5 Sets W% | 0% (0/1) | 100% (1/1) |
| TBs Win% (Total) | 0% (0/2) | 100% (2/2) |
| Deciding Set Win% | 33% (1/3) | 67% (2/3) |
| 1st set W, W | 67% (3/2) | 83% (6/5) |
| 1st set W, L | 33% (3/1) | 17% (6/1) |
| 1st set L, W | 17% (6/1) | 33% (3/1) |
Recent Form Is Very Important In Predicting An Upcoming H2H. Recent Matches With Stats…
Winning Player
Losing Player
Score

R4 - U.S. Open - New York 04 Sep 2022

4-6 6-3 6-1 4-6 6-3

Karen Khachanov

Player

Pablo Carreno-Busta

57% ( 69 of 122)

1st Serve %

63% ( 87 of 139)

78% ( 54 of 69)

1st Serve Won

71% ( 62 of 87)

66% ( 35 of 53)

2nd Serve Won

50% ( 26 of 52)

33% ( 5 of 15)

Break Points Won

100% ( 2 of 2)

27% ( 33 of 122)

Rtn Points Won

37% ( 51 of 139)

R2 - Internazionali BNL d'Italia - Rome 11 May 2022

6-4 2-6 6-1

Karen Khachanov

Player

Pablo Carreno-Busta

54% ( 51 of 95)

1st Serve %

59% ( 37 of 63)

71% ( 36 of 51)

1st Serve Won

76% ( 28 of 37)

52% ( 23 of 44)

2nd Serve Won

46% ( 12 of 26)

75% ( 3 of 4)

Break Points Won

22% ( 2 of 9)

38% ( 36 of 95)

Rtn Points Won

37% ( 23 of 63)

R3 - BNP Paribas Open - Indian Wells 12 Oct 2021

6-0 6-4

Karen Khachanov

Player

Pablo Carreno-Busta

62% ( 23 of 37)

1st Serve %

69% ( 34 of 49)

96% ( 22 of 23)

1st Serve Won

62% ( 21 of 34)

71% ( 10 of 14)

2nd Serve Won

40% ( 6 of 15)

80% ( 4 of 5)

Break Points Won

0% ( 0 of 0)

14% ( 5 of 37)

Rtn Points Won

45% ( 22 of 49)

SF - Olympics - Tokyo 30 Jul 2021

6-3 6-3

Karen Khachanov

Player

Pablo Carreno-Busta

61% ( 28 of 46)

1st Serve %

58% ( 33 of 57)

93% ( 26 of 28)

1st Serve Won

64% ( 21 of 33)

69% ( 11 of 16)

2nd Serve Won

46% ( 11 of 24)

60% ( 3 of 5)

Break Points Won

0% ( 0 of 1)

16% ( 7 of 44)

Rtn Points Won

44% ( 25 of 57)

R2 - Monte-Carlo Rolex Masters - Monte-Carlo 14 Apr 2021

6-2 6-3

Pablo Carreno-Busta

Player

Karen Khachanov

62% ( 28 of 45)

1st Serve %

67% ( 39 of 58)

82% ( 23 of 28)

1st Serve Won

64% ( 25 of 39)

65% ( 11 of 17)

2nd Serve Won

32% ( 6 of 19)

44% ( 4 of 9)

Break Points Won

0% ( 0 of 2)

24% ( 11 of 45)

Rtn Points Won

47% ( 27 of 58)

R2 - Western & Southern Open - New York 24 Aug 2020

7-6(8) 6-1

Karen Khachanov

Player

Pablo Carreno-Busta

51% ( 28 of 55)

1st Serve %

66% ( 45 of 68)

86% ( 24 of 28)

1st Serve Won

64% ( 29 of 45)

67% ( 18 of 27)

2nd Serve Won

52% ( 12 of 23)

75% ( 3 of 4)

Break Points Won

0% ( 0 of 0)

24% ( 13 of 55)

Rtn Points Won

40% ( 27 of 68)

R2 - Rogers Cup - Toronto 08 Aug 2018

6-4 7-6(3)

Karen Khachanov

Player

Pablo Carreno-Busta

68% ( 45 of 66)

1st Serve %

64% ( 46 of 72)

73% ( 33 of 45)

1st Serve Won

70% ( 32 of 46)

67% ( 14 of 21)

2nd Serve Won

50% ( 13 of 26)

100% ( 2 of 2)

Break Points Won

25% ( 1 of 4)

29% ( 19 of 66)

Rtn Points Won

38% ( 27 of 72)

R1 - Rogers Cup - Montreal 08 Aug 2017

3-6 6-3 6-2

Pablo Carreno-Busta

Player

Karen Khachanov

69% ( 47 of 68)

1st Serve %

60% ( 40 of 67)

79% ( 37 of 47)

1st Serve Won

78% ( 31 of 40)

43% ( 9 of 21)

2nd Serve Won

41% ( 11 of 27)

67% ( 4 of 6)

Break Points Won

50% ( 2 of 4)

32% ( 22 of 68)

Rtn Points Won

37% ( 25 of 67)

R2 - Monte-Carlo Rolex Masters - Monte-Carlo 19 Apr 2017

6-4 6-4

Pablo Carreno-Busta

Player

Karen Khachanov

68% ( 45 of 66)

1st Serve %

52% ( 32 of 62)

64% ( 29 of 45)

1st Serve Won

66% ( 21 of 32)

38% ( 8 of 21)

2nd Serve Won

27% ( 8 of 30)

55% ( 6 of 11)

Break Points Won

33% ( 4 of 12)

44% ( 29 of 66)

Rtn Points Won

53% ( 33 of 62)
Stats Breakdown Vs All H2H Opponents
| stats | Pablo Carreno-Busta | Karen Khachanov |
| --- | --- | --- |
| YTD W/L | 29% (2/5) | 65% (34/18) |
| Sets Win/Loss | 43% (9/12) | 62% (84/51) |
| Games Win/Loss | 49% (104/110) | 54% (702/599) |
| Hard Win/Loss | 33% (2/4) | 64% (18/10) |
| Clay Win/Loss | 0% (0/0) | 67% (10/5) |
| Indoor Hard W/L | 0% (0/1) | 67% (6/3) |
| Grass Win/Loss | 0% (0/0) | 0% (0/0) |
| Aces pg | 0.53 | 0.57 |
| Aces Total | 55 | 362 |
| DFs per game | 0.22 | 0.16 |
| DFs Total | 23 | 99 |
| Avg Match Time | 2:25:56 | N/A |
| Avg Opp Rank | 206.71 | 113.13 |
| 1st Serve % | 66% (472/716) | 64% (2553/4019) |
| 1st Serve W% | 72% (338/472) | 74% (1888/2553) |
| 2nd Serve W% | 51% (125/244) | 53% (780/1466) |
| BPs Won% Total | 24% (14/59) | 41% (150/367) |
| Return Pts W% | 32% (220/681) | 38% (1608/4183) |
| Slam W/L | 50% (1/1) | 75% (9/3) |
| Masters W/L | 0% (0/0) | 67% (14/7) |
| Cups W/L | 0% (0/0) | 0% (0/0) |
| Main Tour W/L | 0% (0/2) | 58% (11/8) |
| Tour Finals W/L | 0% (0/0) | 0% (0/0) |
| Challenger W/L | 33% (1/2) | 0% (0/0) |
| Futures W/L | 0% (0/0) | 0% (0/0) |
| Best of 3 Sets W% | 20% (1/5) | 63% (25/40) |
| Best of 5 Sets W% | 50% (1/2) | 75% (9/12) |
| TBs Win% (Total) | 33% (2/6) | 63% (12/19) |
| Deciding Set W% | 25% (1/4) | 58% (7/12) |
| 1st set W, W | 25% (4/1) | 94% (32/30) |
| 1st set W, L | 75% (4/3) | 6% (32/2) |
| 1st set L, W | 33% (3/1) | 20% (20/4) |
opponent
Result
Score
H2H

Malaga Challenger 12 Oct 2023

R2

M. Bellucci

Mattia Bellucci

Player

Pablo Carreno-Busta

64% ( 45 of 70)

1st Serve %

75% ( 47 of 63)

76% ( 34 of 45)

1st Serve Won

64% ( 30 of 47)

72% ( 18 of 25)

2nd Serve Won

63% ( 10 of 16)

50% ( 1 of 2)

Break Points Won

0% ( 0 of 1)

26% ( 18 of 70)

Rtn Points Won

37% ( 23 of 63)

L

6-3 7-6(0)

H2H
R1

A. Cazaux

Pablo Carreno-Busta

Player

Arthur Cazaux

70% ( 74 of 105)

1st Serve %

60% ( 44 of 73)

68% ( 50 of 74)

1st Serve Won

77% ( 34 of 44)

32% ( 10 of 31)

2nd Serve Won

41% ( 12 of 29)

67% ( 4 of 6)

Break Points Won

30% ( 3 of 10)

43% ( 45 of 105)

Rtn Points Won

37% ( 27 of 73)

W

2-6 6-4 6-3

H2H

Alicante Challenger 02 Oct 2023

R1

P. M. Portero

Pedro Martinez Portero

Player

Pablo Carreno-Busta

69% ( 64 of 93)

1st Serve %

70% ( 43 of 61)

75% ( 48 of 64)

1st Serve Won

72% ( 31 of 43)

48% ( 14 of 29)

2nd Serve Won

50% ( 9 of 18)

40% ( 2 of 5)

Break Points Won

0% ( 0 of 13)

33% ( 31 of 93)

Rtn Points Won

34% ( 21 of 61)

L

6-3 7-5

H2H

ABN AMRO World Tennis Tournament - Rotterdam 13 Feb 2023

R1

R. Gasquet

Richard Gasquet

Player

Pablo Carreno-Busta

58% ( 49 of 84)

1st Serve %

62% ( 62 of 100)

73% ( 36 of 49)

1st Serve Won

69% ( 43 of 62)

49% ( 17 of 35)

2nd Serve Won

47% ( 18 of 38)

50% ( 3 of 6)

Break Points Won

38% ( 3 of 8)

37% ( 31 of 84)

Rtn Points Won

39% ( 39 of 100)

L

2-6 7-6(2) 6-2

H2H

Australian Open - Melbourne 19 Jan 2023

R2

B. Bonzi

Benjamin Bonzi

Player

Pablo Carreno-Busta

66% ( 117 of 176)

1st Serve %

65% ( 122 of 187)

76% ( 89 of 117)

1st Serve Won

71% ( 87 of 122)

56% ( 33 of 59)

2nd Serve Won

52% ( 34 of 65)

19% ( 4 of 21)

Break Points Won

17% ( 3 of 18)

31% ( 54 of 176)

Rtn Points Won

35% ( 66 of 187)

L

4-6 4-6 7-6(5) 6-1 7-6(4)

H2H
R1

P. Cachin

Pablo Carreno-Busta

Player

Pedro Cachin

63% ( 59 of 93)

1st Serve %

61% ( 59 of 97)

90% ( 53 of 59)

1st Serve Won

81% ( 48 of 59)

65% ( 22 of 34)

2nd Serve Won

47% ( 18 of 38)

33% ( 2 of 6)

Break Points Won

0% ( 0 of 2)

19% ( 18 of 93)

Rtn Points Won

32% ( 31 of 97)

W

7-6(4) 6-1 7-6(3)

H2H

Adelaide International 2 - Adelaide 11 Jan 2023

R2

S. Kwon

Soon-Woo Kwon

Player

Pablo Carreno-Busta

65% ( 57 of 88)

1st Serve %

61% ( 65 of 107)

77% ( 44 of 57)

1st Serve Won

68% ( 44 of 65)

52% ( 16 of 31)

2nd Serve Won

52% ( 22 of 42)

43% ( 3 of 7)

Break Points Won

29% ( 2 of 7)

32% ( 28 of 88)

Rtn Points Won

38% ( 41 of 107)

L

3-6 6-4 6-4

H2H

Davis Cup, Finals, QF, CRO-ESP 2-0 23 Nov 2022

Rubber 2

M. Cilic

L

5-7 6-3 7-6(5)

H2H

Rolex Paris Masters - Paris 03 Nov 2022

R3

T. Paul

Tommy Paul

Player

Pablo Carreno-Busta

67% ( 38 of 57)

1st Serve %

81% ( 52 of 64)

76% ( 29 of 38)

1st Serve Won

65% ( 34 of 52)

68% ( 13 of 19)

2nd Serve Won

25% ( 3 of 12)

25% ( 3 of 12)

Break Points Won

100% ( 1 of 1)

26% ( 15 of 57)

Rtn Points Won

42% ( 27 of 64)

L

6-4 6-4

H2H
R2

D. Shapovalov

Pablo Carreno-Busta

Player

Denis Shapovalov

59% ( 48 of 81)

1st Serve %

50% ( 51 of 103)

75% ( 36 of 48)

1st Serve Won

86% ( 44 of 51)

70% ( 23 of 33)

2nd Serve Won

48% ( 25 of 52)

22% ( 2 of 9)

Break Points Won

60% ( 3 of 5)

27% ( 22 of 81)

Rtn Points Won

33% ( 34 of 103)

W

7-6(2) 2-6 6-4

H2H
view more
opponent
Result
Score
H2H

Moselle Open - Metz 09 Nov 2023

QF

A. Shevchenko

Alexander Shevchenko

Player

Karen Khachanov

54% ( 30 of 56)

1st Serve %

56% ( 27 of 48)

87% ( 26 of 30)

1st Serve Won

85% ( 23 of 27)

65% ( 17 of 26)

2nd Serve Won

52% ( 11 of 21)

67% ( 2 of 3)

Break Points Won

0% ( 0 of 3)

23% ( 13 of 56)

Rtn Points Won

29% ( 14 of 48)

L

6-4 6-4

H2H
R2

C. Lestienne

Karen Khachanov

Player

Constant Lestienne

68% ( 40 of 59)

1st Serve %

62% ( 42 of 68)

73% ( 29 of 40)

1st Serve Won

62% ( 26 of 42)

68% ( 13 of 19)

2nd Serve Won

54% ( 14 of 26)

50% ( 3 of 6)

Break Points Won

50% ( 1 of 2)

29% ( 17 of 59)

Rtn Points Won

41% ( 28 of 68)

W

6-4 6-4

H2H

Rolex Paris Masters - Paris 03 Nov 2023

QF

S. Tsitsipas

Stefanos Tsitsipas

Player

Karen Khachanov

62% ( 33 of 53)

1st Serve %

60% ( 30 of 50)

79% ( 26 of 33)

1st Serve Won

73% ( 22 of 30)

50% ( 10 of 20)

2nd Serve Won

35% ( 7 of 20)

100% ( 3 of 3)

Break Points Won

100% ( 1 of 1)

32% ( 17 of 53)

Rtn Points Won

42% ( 21 of 50)

L

6-3 6-4

H2H
R3

R. Safiullin

Karen Khachanov

Player

Roman Safiullin

57% ( 51 of 89)

1st Serve %

70% ( 62 of 89)

90% ( 46 of 51)

1st Serve Won

76% ( 47 of 62)

42% ( 16 of 38)

2nd Serve Won

41% ( 11 of 27)

75% ( 3 of 4)

Break Points Won

17% ( 1 of 6)

30% ( 27 of 89)

Rtn Points Won

35% ( 31 of 89)

W

4-6 6-4 6-2

H2H
R2

L. Djere

Karen Khachanov

Player

Laslo Djere

65% ( 39 of 60)

1st Serve %

55% ( 50 of 91)

77% ( 30 of 39)

1st Serve Won

70% ( 35 of 50)

67% ( 14 of 21)

2nd Serve Won

44% ( 18 of 41)

30% ( 3 of 10)

Break Points Won

33% ( 1 of 3)

27% ( 16 of 60)

Rtn Points Won

42% ( 38 of 91)

W

6-4 7-5

H2H
R1

M. Purcell

Karen Khachanov

Player

Max Purcell

62% ( 36 of 58)

1st Serve %

55% ( 35 of 64)

75% ( 27 of 36)

1st Serve Won

77% ( 27 of 35)

55% ( 12 of 22)

2nd Serve Won

38% ( 11 of 29)

43% ( 3 of 7)

Break Points Won

50% ( 1 of 2)

33% ( 19 of 58)

Rtn Points Won

41% ( 26 of 64)

W

6-4 6-4

H2H

Erste Bank Open - Vienna 27 Oct 2023

QF

D. Medvedev

Daniil Medvedev

Player

Karen Khachanov

63% ( 56 of 89)

1st Serve %

66% ( 59 of 89)

80% ( 45 of 56)

1st Serve Won

78% ( 46 of 59)

48% ( 16 of 33)

2nd Serve Won

37% ( 11 of 30)

33% ( 2 of 6)

Break Points Won

100% ( 1 of 1)

31% ( 28 of 89)

Rtn Points Won

36% ( 32 of 89)

L

6-3 3-6 6-3

H2H
R2

J. Lehecka

Karen Khachanov

Player

Jiri Lehecka

73% ( 29 of 40)

1st Serve %

68% ( 38 of 56)

86% ( 25 of 29)

1st Serve Won

55% ( 21 of 38)

73% ( 8 of 11)

2nd Serve Won

39% ( 7 of 18)

50% ( 4 of 8)

Break Points Won

0% ( 0 of 0)

18% ( 7 of 40)

Rtn Points Won

50% ( 28 of 56)

W

6-3 6-1

H2H
R1

R. Safiullin

Karen Khachanov

Player

Roman Safiullin

67% ( 44 of 66)

1st Serve %

65% ( 40 of 62)

73% ( 32 of 44)

1st Serve Won

78% ( 31 of 40)

59% ( 13 of 22)

2nd Serve Won

45% ( 10 of 22)

29% ( 2 of 7)

Break Points Won

0% ( 0 of 1)

32% ( 21 of 66)

Rtn Points Won

34% ( 21 of 62)

W

6-4 6-4

H2H

Rakuten Japan Open - Tokyo 17 Oct 2023

R1

A. Popyrin

Alexei Popyrin

Player

Karen Khachanov

63% ( 45 of 71)

1st Serve %

56% ( 32 of 57)

78% ( 35 of 45)

1st Serve Won

69% ( 22 of 32)

35% ( 9 of 26)

2nd Serve Won

40% ( 10 of 25)

40% ( 4 of 10)

Break Points Won

13% ( 1 of 8)

38% ( 27 of 71)

Rtn Points Won

44% ( 25 of 57)

L

6-4 6-2

H2H
view more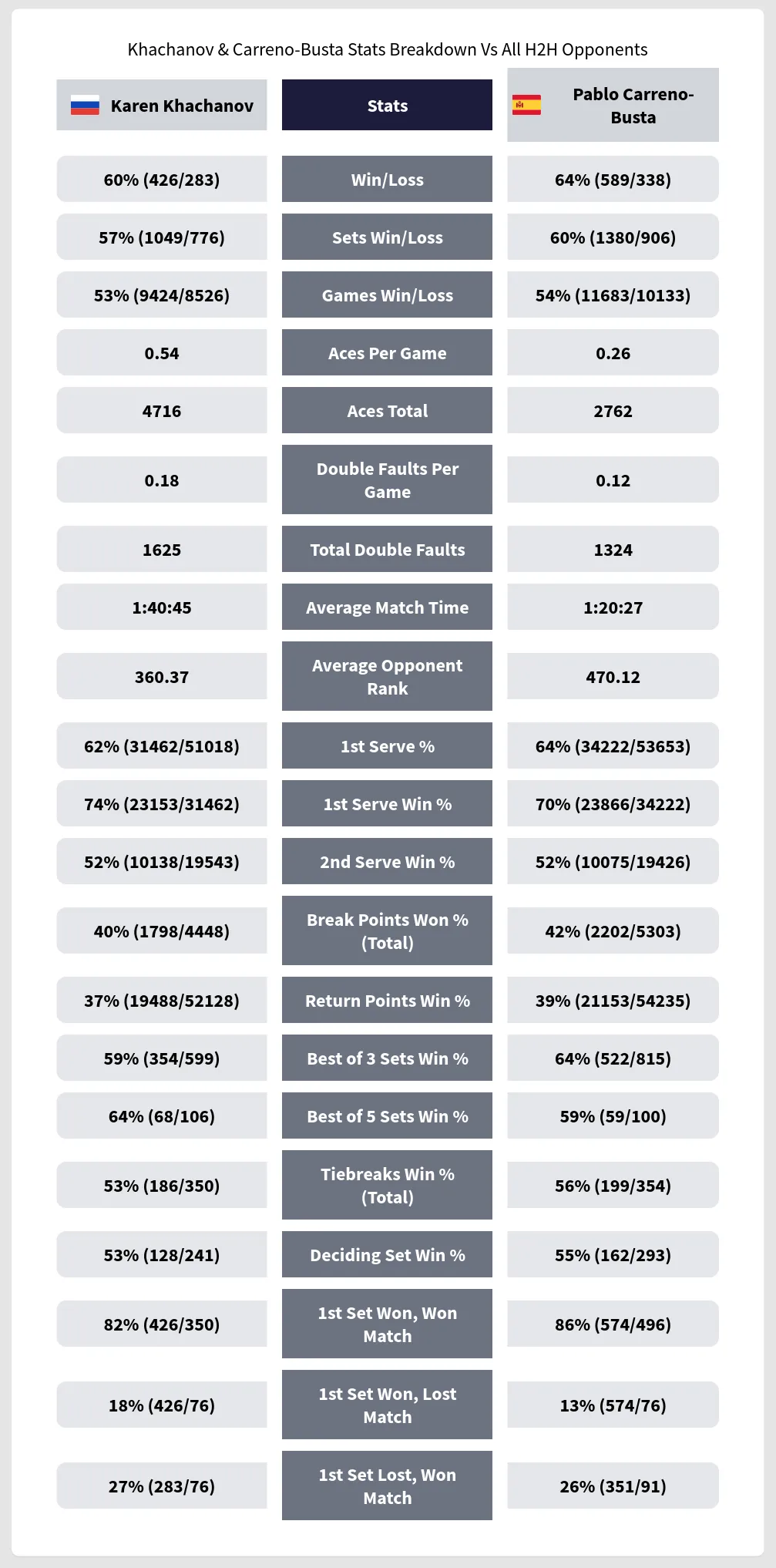 Today's H2H Tennis Betting Tips & Predictions
Premium Predictions $49.99