Matchstat.com expert prediction for the Milovanovic Viviani H2H. Here is our in-depth stats analysis and accurate prediction of the Milovanovic Viviani head to head.
Full Stats Used To Calculate Our Milovanovic Vs Viviani Prediction Are Further Down This Page. Here Is A Brief Snapshot
The best career year for Milovanovic was 2023 when she won 64% of matches played on all surfaces (43/24). Viviani was in the best form in 2022 when she had victories of 60% of his matches (26/17). In their last event played, Viviani made the Quarterfinals at W15 Heraklion, whereas Milovanovic played W60 Trnava and made the Quarterfinals.
Currently displayed stats includes matches of all levels. To exclude lower level events (as per ATP / WTA official stats) toggle button in page footer.
| stats | Elena Milovanovic | Maria Vittoria Viviani |
| --- | --- | --- |
| All H2H Matches | 1 | 0 |
| Sets Won | 2 | 0 |
| Games Won | 13 | 7 |
| Aces (Total) | 2 | 0 |
| DFs (Total) | 3 | 7 |
| Avg Match Time | 1:53:0 | 1:53:0 |
| 1st Serve % | 79% (41/52) | 72% (55/76) |
| 1st Serve Win% | 56% (23/41) | 47% (26/55) |
| 2nd Serve Win% | 27% (3/11) | 24% (5/21) |
| BPs Won% (Total) | 62% (8/13) | 100% (5/5) |
| Return Points W% | 59% (45/76) | 50% (26/52) |
| Best of 3 Sets W% | 100% (1/1) | 0% (0/1) |
| Best of 5 Sets W% | 0% (0/0) | 0% (0/0) |
| TBs Win% (Total) | 0% (0/0) | 0% (0/0) |
| Deciding Set Win% | 0% (0/0) | 0% (0/0) |
| 1st set W, W | 100% (1/1) | 0% (0/0) |
| 1st set W, L | 0% (1/0) | 0% (0/0) |
| 1st set L, W | 0% (0/0) | 0% (1/0) |
Recent Form Is Very Important In Predicting An Upcoming H2H. Recent Matches With Stats…
Winning Player
Losing Player
Score

QF - W15 Monastir 22 Sep 2023

E. Milovanovic

M. V. Viviani

7-5 6-2

Elena Milovanovic

Player

Maria Vittoria Viviani

79% ( 41 of 52)

1st Serve %

72% ( 55 of 76)

56% ( 23 of 41)

1st Serve Won

47% ( 26 of 55)

27% ( 3 of 11)

2nd Serve Won

24% ( 5 of 21)

62% ( 8 of 13)

Break Points Won

100% ( 5 of 5)

50% ( 26 of 52)

Rtn Points Won

59% ( 45 of 76)
Stats Breakdown Vs All H2H Opponents
| stats | Elena Milovanovic | Maria Vittoria Viviani |
| --- | --- | --- |
| YTD W/L | 64% (43/24) | 42% (15/21) |
| Sets Win/Loss | 62% (96/60) | 40% (32/48) |
| Games Win/Loss | 56% (775/619) | 46% (345/397) |
| Hard Win/Loss | 68% (23/11) | 40% (10/15) |
| Clay Win/Loss | 50% (7/7) | 67% (4/2) |
| Indoor Hard W/L | 68% (13/6) | 20% (1/4) |
| Grass Win/Loss | 0% (0/0) | 0% (0/0) |
| Aces pg | 0.22 | 0.05 |
| Aces Total | 152 | 18 |
| DFs per game | 0.39 | 0.26 |
| DFs Total | 262 | 93 |
| Avg Match Time | 1:36:55 | 1:37:33 |
| Avg Opp Rank | 222.4 | 143 |
| 1st Serve % | 64% (2745/4322) | 72% (1495/2084) |
| 1st Serve W% | 63% (1737/2745) | 53% (798/1495) |
| 2nd Serve W% | 43% (677/1577) | 39% (231/589) |
| BPs Won% Total | 52% (299/573) | 47% (137/289) |
| Return Pts W% | 49% (2083/4281) | 47% (984/2099) |
| Slam W/L | 0% (0/0) | 0% (0/0) |
| Masters W/L | 0% (0/0) | 0% (0/0) |
| Cups W/L | 0% (0/0) | 0% (0/0) |
| Main Tour W/L | 0% (0/0) | 0% (0/0) |
| Tour Finals W/L | 0% (0/0) | 0% (0/0) |
| Challenger W/L | 57% (20/15) | 40% (6/9) |
| Futures W/L | 72% (23/9) | 43% (9/12) |
| Best of 3 Sets W% | 65% (43/66) | 40% (14/35) |
| Best of 5 Sets W% | 0% (0/1) | 100% (1/1) |
| TBs Win% (Total) | 62% (8/13) | 14% (1/7) |
| Deciding Set W% | 57% (12/21) | 71% (5/7) |
| 1st set W, W | 88% (41/36) | 93% (14/13) |
| 1st set W, L | 12% (41/5) | 7% (14/1) |
| 1st set L, W | 27% (26/7) | 9% (22/2) |
opponent
Result
Score
H2H

W60 Trnava 01 Dec 2023

QF

Y. Hatouka

Yuliya Hatouka

Player

Elena Milovanovic

69% ( 38 of 55)

1st Serve %

70% ( 44 of 63)

79% ( 30 of 38)

1st Serve Won

73% ( 32 of 44)

59% ( 10 of 17)

2nd Serve Won

21% ( 4 of 19)

50% ( 3 of 6)

Break Points Won

0% ( 0 of 3)

27% ( 15 of 55)

Rtn Points Won

43% ( 27 of 63)

L

6-4 6-3

H2H
R2

A. Mitu

Elena Milovanovic

Player

Andreea Mitu

64% ( 38 of 59)

1st Serve %

56% ( 30 of 54)

74% ( 28 of 38)

1st Serve Won

57% ( 17 of 30)

52% ( 11 of 21)

2nd Serve Won

33% ( 8 of 24)

50% ( 4 of 8)

Break Points Won

14% ( 1 of 7)

34% ( 20 of 59)

Rtn Points Won

54% ( 29 of 54)

W

6-2 6-3

H2H
R1

G. Topalova

Elena Milovanovic

Player

Gergana Topalova

68% ( 52 of 76)

1st Serve %

54% ( 38 of 70)

69% ( 36 of 52)

1st Serve Won

68% ( 26 of 38)

54% ( 13 of 24)

2nd Serve Won

41% ( 13 of 32)

23% ( 3 of 13)

Break Points Won

0% ( 0 of 6)

36% ( 27 of 76)

Rtn Points Won

44% ( 31 of 70)

W

7-5 6-1

H2H
QF

C. W. Hennemann

Elena Milovanovic

Player

Caijsa Wilda Hennemann

67% ( 47 of 70)

1st Serve %

71% ( 29 of 41)

51% ( 24 of 47)

1st Serve Won

31% ( 9 of 29)

57% ( 13 of 23)

2nd Serve Won

25% ( 3 of 12)

88% ( 7 of 8)

Break Points Won

30% ( 3 of 10)

47% ( 33 of 70)

Rtn Points Won

71% ( 29 of 41)

W

6-2 6-1

H2H
Q1

K. N. Kucikova

Elena Milovanovic

Player

Kiara Nina Kucikova

82% ( 32 of 39)

1st Serve %

47% ( 21 of 45)

78% ( 25 of 32)

1st Serve Won

43% ( 9 of 21)

86% ( 6 of 7)

2nd Serve Won

42% ( 10 of 24)

71% ( 5 of 7)

Break Points Won

0% ( 0 of 0)

21% ( 8 of 39)

Rtn Points Won

58% ( 26 of 45)

W

6-1 6-1

H2H

W40 Petange 16 Nov 2023

R2

A. Friedsam

Anna-Lena Friedsam

Player

Elena Milovanovic

65% ( 46 of 71)

1st Serve %

60% ( 53 of 89)

65% ( 30 of 46)

1st Serve Won

68% ( 36 of 53)

76% ( 19 of 25)

2nd Serve Won

50% ( 18 of 36)

25% ( 2 of 8)

Break Points Won

33% ( 1 of 3)

31% ( 22 of 71)

Rtn Points Won

39% ( 35 of 89)

L

7-6(7) 6-4

H2H
R1

Z. Falkner

Elena Milovanovic

Player

Ziva Falkner

62% ( 59 of 95)

1st Serve %

59% ( 50 of 85)

66% ( 39 of 59)

1st Serve Won

66% ( 33 of 50)

47% ( 17 of 36)

2nd Serve Won

37% ( 13 of 35)

42% ( 5 of 12)

Break Points Won

30% ( 3 of 10)

41% ( 39 of 95)

Rtn Points Won

46% ( 39 of 85)

W

4-6 6-2 6-3

H2H
QF

N. Radovanovic

Elena Milovanovic

Player

Nina Radovanovic

63% ( 56 of 89)

1st Serve %

52% ( 51 of 99)

73% ( 41 of 56)

1st Serve Won

80% ( 41 of 51)

48% ( 16 of 33)

2nd Serve Won

38% ( 18 of 48)

50% ( 2 of 4)

Break Points Won

43% ( 3 of 7)

36% ( 32 of 89)

Rtn Points Won

40% ( 40 of 99)

W

1-6 6-3 7-6(1)

H2H
Q1

A. L. Y. Foon

Elena Milovanovic

Player

Astrid Lew Yan Foon

61% ( 51 of 84)

1st Serve %

41% ( 22 of 54)

57% ( 29 of 51)

1st Serve Won

68% ( 15 of 22)

39% ( 13 of 33)

2nd Serve Won

16% ( 5 of 32)

64% ( 7 of 11)

Break Points Won

44% ( 4 of 9)

50% ( 42 of 84)

Rtn Points Won

63% ( 34 of 54)

W

6-4 6-2

H2H

W25 Istanbul 27 Oct 2023

QF

M. Kubka

Martyna Kubka

Player

Elena Milovanovic

67% ( 83 of 123)

1st Serve %

61% ( 68 of 111)

69% ( 57 of 83)

1st Serve Won

66% ( 45 of 68)

48% ( 19 of 40)

2nd Serve Won

42% ( 18 of 43)

45% ( 5 of 11)

Break Points Won

17% ( 2 of 12)

38% ( 47 of 123)

Rtn Points Won

43% ( 48 of 111)

L

6-7(5) 6-2 7-5

H2H
view more
opponent
Result
Score
H2H

W15 Heraklion 01 Dec 2023

QF

E. Christofi

Eleni Christofi

Player

Maria Vittoria Viviani

68% ( 69 of 102)

1st Serve %

83% ( 50 of 60)

59% ( 41 of 69)

1st Serve Won

50% ( 25 of 50)

58% ( 19 of 33)

2nd Serve Won

60% ( 6 of 10)

50% ( 4 of 8)

Break Points Won

11% ( 2 of 19)

41% ( 42 of 102)

Rtn Points Won

48% ( 29 of 60)

L

6-4 6-3

H2H
R2

K. Cvetkovic

Maria Vittoria Viviani

Player

Kiara Cvetkovic

70% ( 43 of 61)

1st Serve %

64% ( 47 of 74)

47% ( 20 of 43)

1st Serve Won

51% ( 24 of 47)

67% ( 12 of 18)

2nd Serve Won

33% ( 9 of 27)

47% ( 7 of 15)

Break Points Won

71% ( 5 of 7)

48% ( 29 of 61)

Rtn Points Won

55% ( 41 of 74)

W

6-1 1-6 6-3

H2H
R1

A. Biot

Maria Vittoria Viviani

Player

Alexandra Biot

83% ( 85 of 102)

1st Serve %

61% ( 69 of 113)

59% ( 50 of 85)

1st Serve Won

55% ( 38 of 69)

35% ( 6 of 17)

2nd Serve Won

36% ( 16 of 44)

47% ( 8 of 17)

Break Points Won

40% ( 6 of 15)

45% ( 46 of 102)

Rtn Points Won

52% ( 59 of 113)

W

6-4 5-7 6-2

H2H

W15 Heraklion 24 Nov 2023

QF

E. Christofi

Eleni Christofi

Player

Maria Vittoria Viviani

58% ( 21 of 36)

1st Serve %

76% ( 34 of 45)

86% ( 18 of 21)

1st Serve Won

38% ( 13 of 34)

53% ( 8 of 15)

2nd Serve Won

18% ( 2 of 11)

75% ( 6 of 8)

Break Points Won

0% ( 0 of 0)

28% ( 10 of 36)

Rtn Points Won

67% ( 30 of 45)

L

6-0 6-0

H2H
R2

K. Krajmer

W

6-2 6-2

H2H
R1

K. Cvetkovic

Maria Vittoria Viviani

Player

Kiara Cvetkovic

63% ( 30 of 48)

1st Serve %

55% ( 24 of 44)

60% ( 18 of 30)

1st Serve Won

25% ( 6 of 24)

56% ( 10 of 18)

2nd Serve Won

40% ( 8 of 20)

64% ( 7 of 11)

Break Points Won

33% ( 2 of 6)

42% ( 20 of 48)

Rtn Points Won

68% ( 30 of 44)

W

6-3 6-0

H2H

W25 Solarino 14 Nov 2023

R1

G. G. Lucchina

L

6-1 6-1

H2H
QF

G. G. Lucchina

Greta Greco Lucchina

Player

Maria Vittoria Viviani

57% ( 34 of 60)

1st Serve %

70% ( 58 of 83)

53% ( 18 of 34)

1st Serve Won

52% ( 30 of 58)

65% ( 17 of 26)

2nd Serve Won

48% ( 12 of 25)

43% ( 6 of 14)

Break Points Won

80% ( 4 of 5)

42% ( 25 of 60)

Rtn Points Won

49% ( 41 of 83)

L

7-6(5) 6-3

H2H

W25 Monastir 30 Oct 2023

Q2

J. Silva

Johanna Silva

Player

Maria Vittoria Viviani

63% ( 44 of 70)

1st Serve %

74% ( 48 of 65)

50% ( 22 of 44)

1st Serve Won

44% ( 21 of 48)

46% ( 12 of 26)

2nd Serve Won

41% ( 7 of 17)

62% ( 8 of 13)

Break Points Won

36% ( 5 of 14)

51% ( 36 of 70)

Rtn Points Won

57% ( 37 of 65)

L

6-3 7-5

H2H

W15 Monastir 24 Oct 2023

R1

K. Milenkovic

Kristina Milenkovic

Player

Maria Vittoria Viviani

62% ( 41 of 66)

1st Serve %

73% ( 58 of 80)

59% ( 24 of 41)

1st Serve Won

43% ( 25 of 58)

52% ( 13 of 25)

2nd Serve Won

50% ( 11 of 22)

44% ( 7 of 16)

Break Points Won

50% ( 5 of 10)

44% ( 29 of 66)

Rtn Points Won

55% ( 44 of 80)

L

7-6(3) 6-2

H2H
view more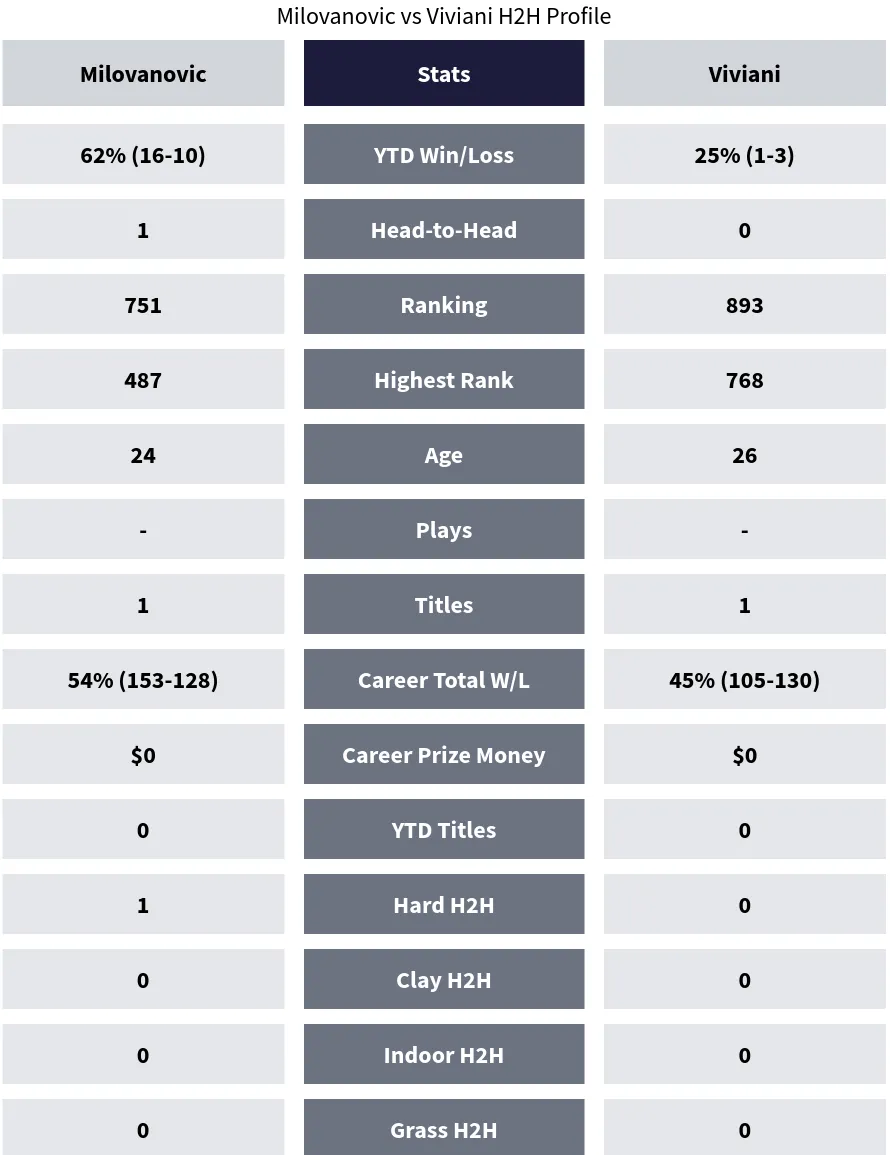 Today's H2H Tennis Betting Tips & Predictions
Premium Predictions $49.99